Beamsville Dog Grooming
Are you looking for quality dog grooming in Beamsville? We are proud to employ three talented professional dog groomers and are committed to ensuring that high quality grooming is provided.  
Recently our grooming team grew from two groomers to three groomers and as a result we are accepting new clients.
Book your dog in for Grooming
Please text or call us at 289-990-5595 to request an appointment. We will often arrange for a meet and greet where you will bring your dog for a short visit so that we can offer a better estimate. 
Before your first appointment, we will ask you to fill out our grooming form (Maggy's Grooming Form)
We are accepting new clients but our focus and priority is always on existing regular clients. Typically we recommend that clients put their dogs on a regular schedule as recommended by your groomer. 
Nail Trim Appointments
We are presently experiencing very large demand for dog grooming appointments and for nail trim appointments.  Due to increased demand for grooming, and increased cleaning requirements, many groomers are not booking nail trims.  We are able to accept nail trim appointments and ask that you text us to book in. It's best if you text us on the day you would like to come and we will confirm availability.  Generally our groomers prefer taking nail trims at the end of their working day.
Aiming to be the Best Dog Groomer in Beamsville!
We only take one dog at a time and set appointments for your dogs groom. This ensures that your dog gets our full attention during the time she is at the shop.  This reduces stress on your dog because they do not need to be kenneled or spend the day with other dogs.
Our groomers are encouraged to participate in professional development opportunities. There are a variety of courses, shows and conferences that professional dog groomers can participate in to ensure that their skills are up to date.
We encourage feedback!  If you are unhappy with anything about the groom, let us know within 24 hours and we'll touch up or otherwise address any problems. We want you to be thrilled with how your dog looks and smells after they leave the shop!
This might sound obvious ... we insist that our groomers thoroughly bathe and dry every dog. We avoid the use of cage dryers.
Finally, we ask that our grooming customers speak with the groomer directly, before and after the groom, to ensure that everything goes as expected.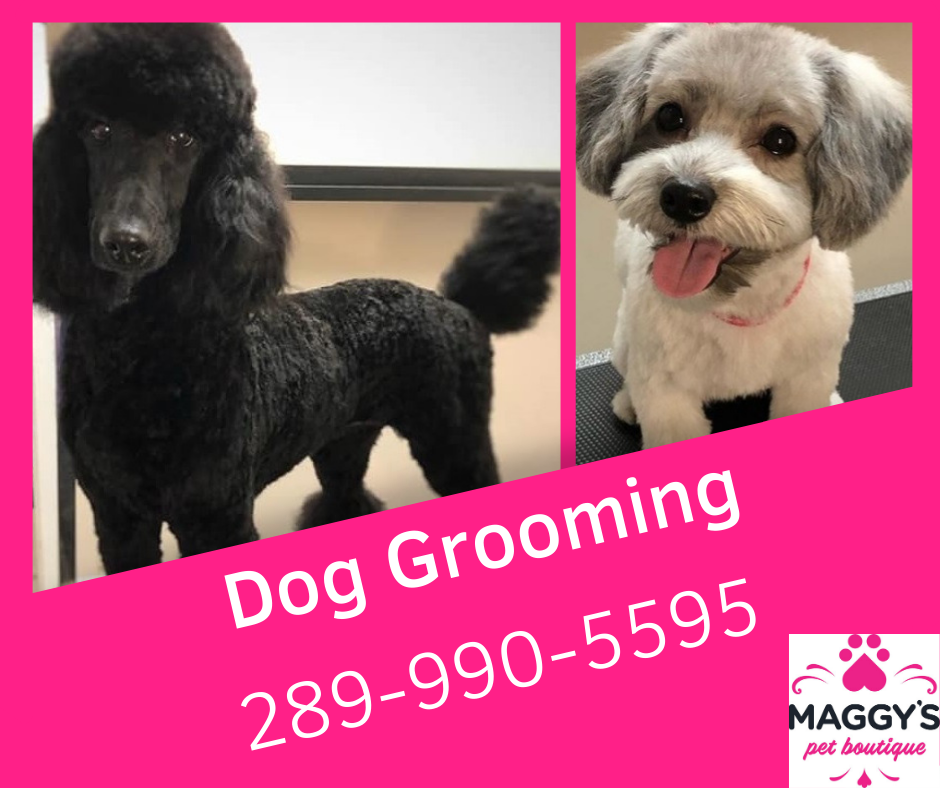 What our Customers are Saying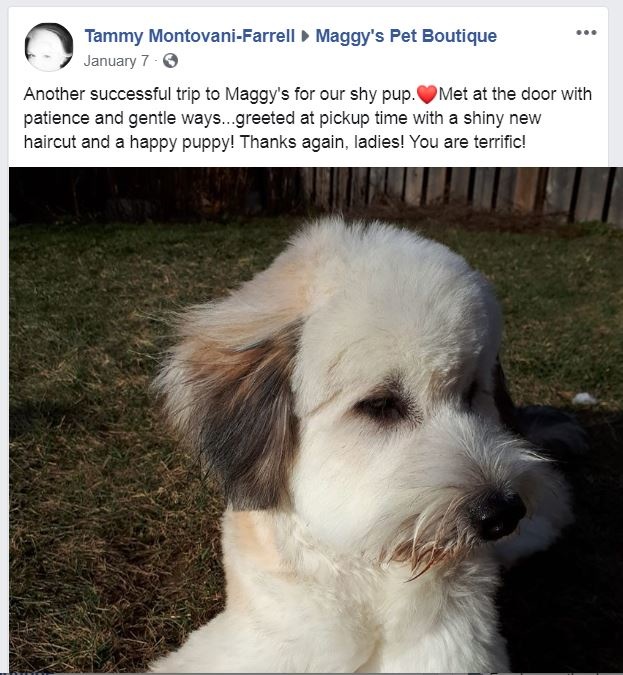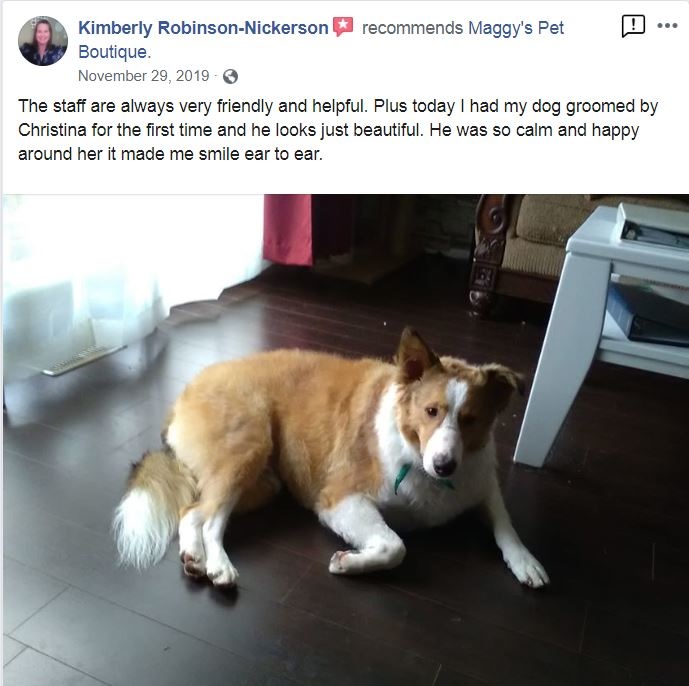 Dog Grooming Appointments in Beamsville
We have appointments available Monday - Saturday with early evenings available some days as well.
To book an appointment, text or call us at 289-990-5595 or visit the shop. We are located at 4520 Ontario street in Beamsville (Town of Lincoln)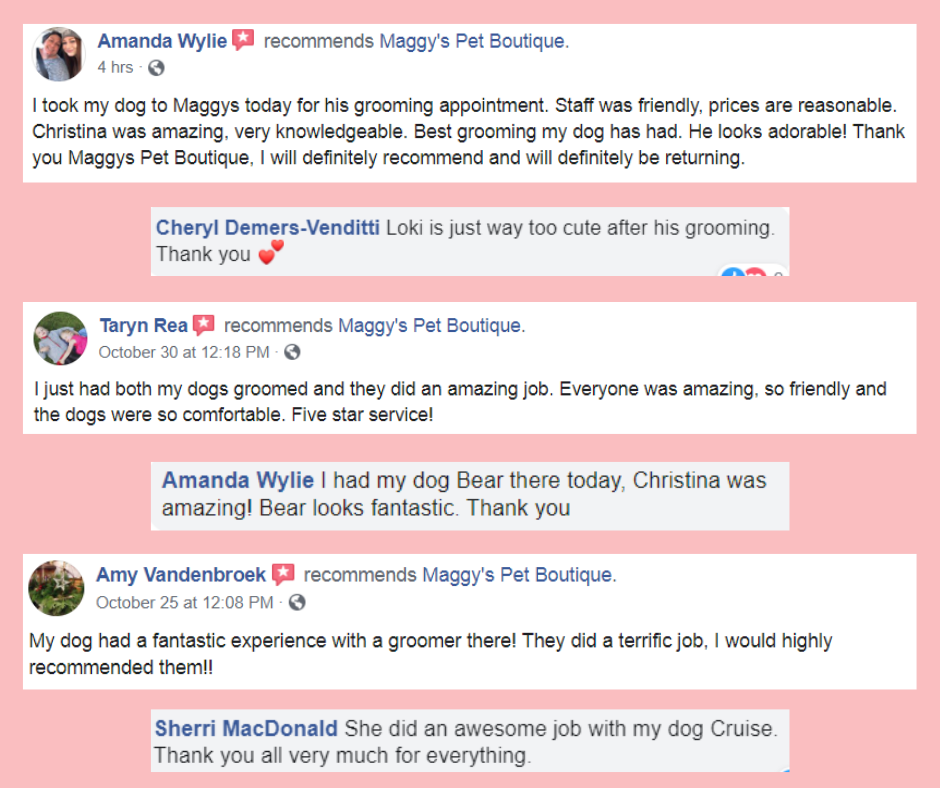 Dog Grooming Prices
The following dog grooming prices are starting prices and are estimates. A variety of factors can impact the price (see below for more detail). Our goal is to be fair and transparent, while ensuring that our groomers are paid very well to provide the best dog grooming in Beamsville.
| | | | |
| --- | --- | --- | --- |
| Size of Dog | Full Groom  | Face, Feet, Sani | Bath service |
| Small (<25 lbs, 14") | $65 | $50 | $40 |
| Medium (<40 lbs, 18") | $75 | $60 | $50 |
| Large (< 60 lbs, 22") | $85 | $70 | $60 |
| X-Large (<80 lbs, 28") | $100 | $80 | $70 |
| Giant (>80 lbs, 28") | $130+ | $100+ | $90+ |
These prices are based on dogs on a regular grooming schedule which should be approximately every 8 weeks for most dogs. Doodles will often be slightly higher than these estimates
Dogs that are groomed less frequently often require extra time and care for the groomer and as a result will be higher than these estimates.
The following situations may result in extra charges as they require extra attention, care and skill.
Matted coats
Compacted undercoats
Long hair
Dogs that require a cone or other safety instructions
Dogs that suffer from extreme anxiety
Sensitive seniors that require extra care, time and attention
How we plan to be the Best Dog Groomer in Beamsville
Your dog will not be kennelled or cage dried. It will not have to stay in a doggy daycare. We are a small shop that insists that our groomers only have one dog at a time so they can focus on the task at hand. We are not a doggy daycare and book by appointment. This reduces stress on your dog and allows our groomer to give their undivided attention to your dog. This allows for quality, safety, cleanliness, and less stress on your dog
Maggy's has high standards that are non-negotiable to ensure quality.  We insist that every dog is thoroughly bathed and dried by hand - with towels and hand dryers - not cage dryers!  We use high quality products that are safe for your dog and for our groomer.
You will have the opportunity to speak with the groomer directly before and after each groom. This allows for good feedback from you, tips from the groomer for the health of your dog, and a friendly atmosphere to develop in our shop as a community of pet lovers.
Our groomers must have a passion for grooming. They are professionals that love dogs and take pride in making them look fantastic. They attend grooming shows, competitions and other professional development opportunities.