Maggy's Pet Boutique is a local, independent pet shop located at 4520 Ontario street in Beamsville. We are proud to carry high quality dog and cat foods and supplies. We emphasize Canadian brands where ever possible.
Raw Pet Foods at Maggy's 
We are proud to have the largest selection of raw pet food in Lincoln Ontario!
Mega Dog Raw
We are excited to add Mega Dog Raw to our lineup starting on Monday, February 20. In testing the products at home, we have been quite satisfied and our pups were delighted to be the official taste testers.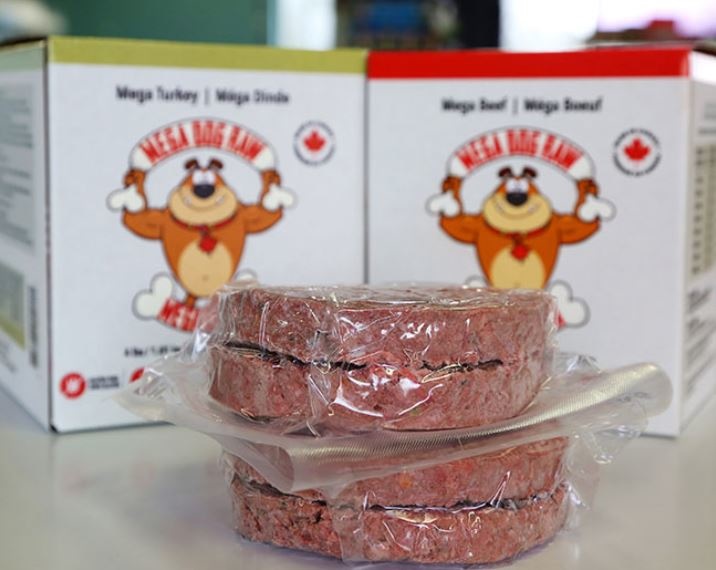 Mega Dog Raw blend was introduced in 2014 to provide an economical raw food option for families with bigger dogs or multiple dog households.
It is made from triple-ground meat with bones, organs, kelp, and a mix of vegetables including carrots, broccoli, zucchini, and collard greens. All the meats are antibiotic and hormone free. The blend still contains a low vegetable content, compared to similarly-priced options, staying true to a low glycemic philosophy.
Packaging / serving: Convenient 8oz (227gram) patties
Check out our selection of Mega Dog Raw
Bold Raw
Bold Raws cat line of products will be arriving at Maggy's on Monday, February 22.  The dog line of products will be added over time as interest grows.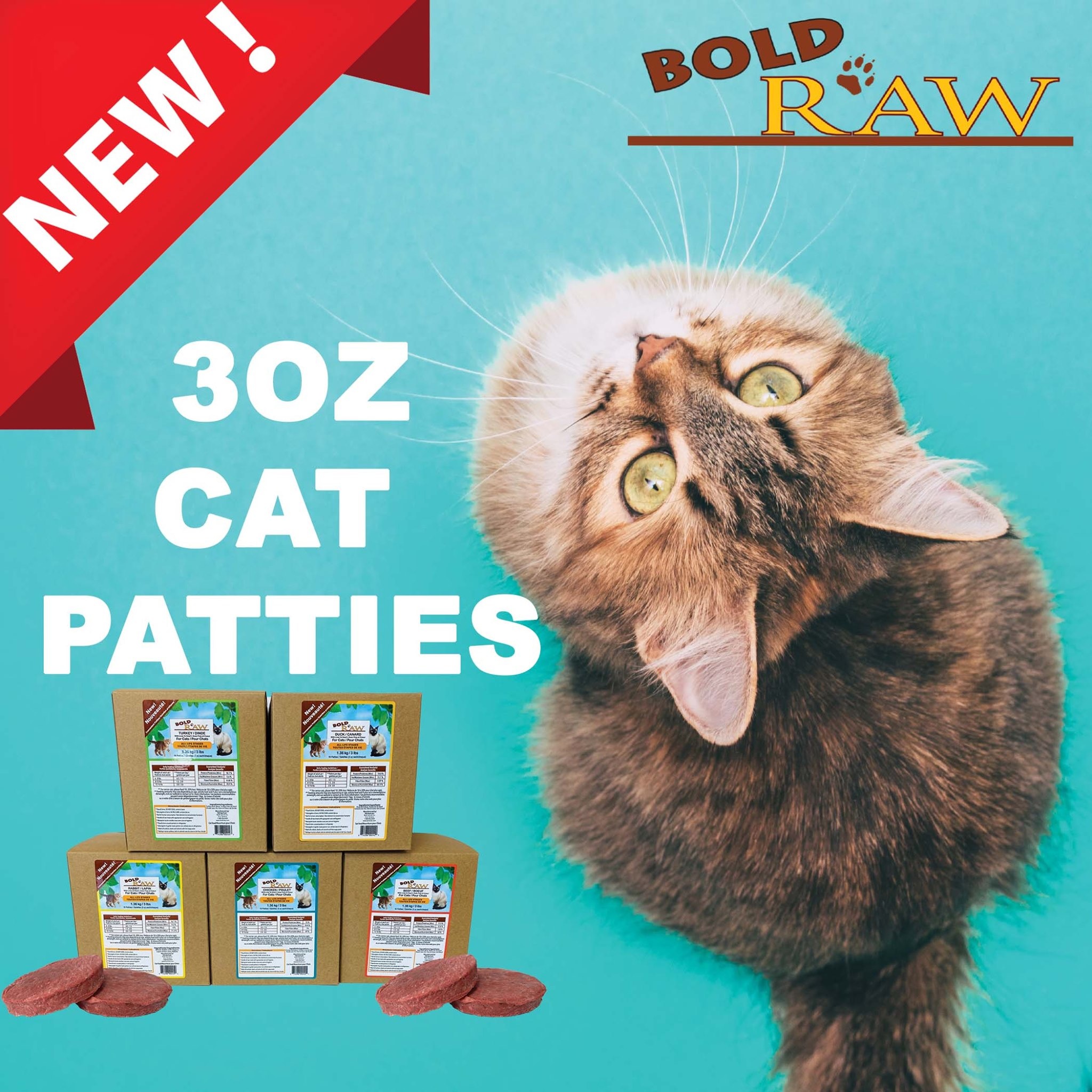 The idea behind Bold Raw was to model the natural prey diet of a cat.  The Bold Raw blend was also designed to provide a low glycemic option. Since cats are obligatory carnivores, the blends do not have fruits or veggies, which is also great for cats with diabetes, urinary crystals, yeast issues, or weight problems. You can think of it as the gluten-free equivalent for your pet.
Packaging / serving: Convenient 3oz (85gram) patties
Primal Pet Foods
This is the only brand of raw that we carry that is not made in Canada. Primal earned a place in our line up for a variety of reasons.  It started with their bone broth and goats milk, which our dogs and cats, as well as the dogs and cats of our customers, have absolutely loved. Next, we brought in their raw meaty bones when another supplier had issues with supply. Each new product from Primal that we have added has proven to be a good choice. 
A few weeks ago we add their Butchers Blend and Market Mix Toppers and our customers are loving the convenience of raw in bite sized nuggets that are very quick to thaw. Not only that, but the bags are resealable making it convenient to portion out what is needed.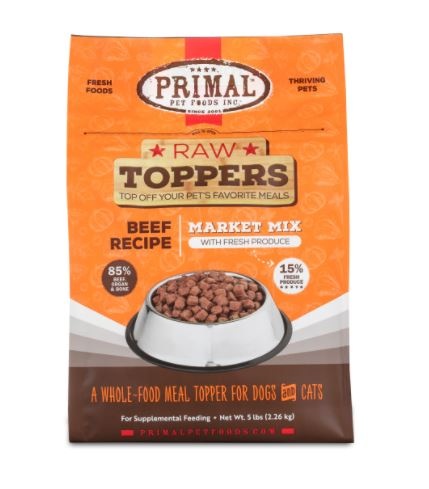 Packaging / serving: Primals packaging is extremely convenient. The raw food is frozen in bit sized nuggets and the packages are resealable. Just thaw, portion and serve.
Find Primal Pet Food on Maggy's website
Raw Performance
Raw Performance is a local brand that is made in St Catharines. Their products contain no mechanically separated meat. No preservatives. No fillers. Just real food that you can feel good about feeding your pet. The products are sourced locally, with salmon being the only exception (sourced from British Columbia).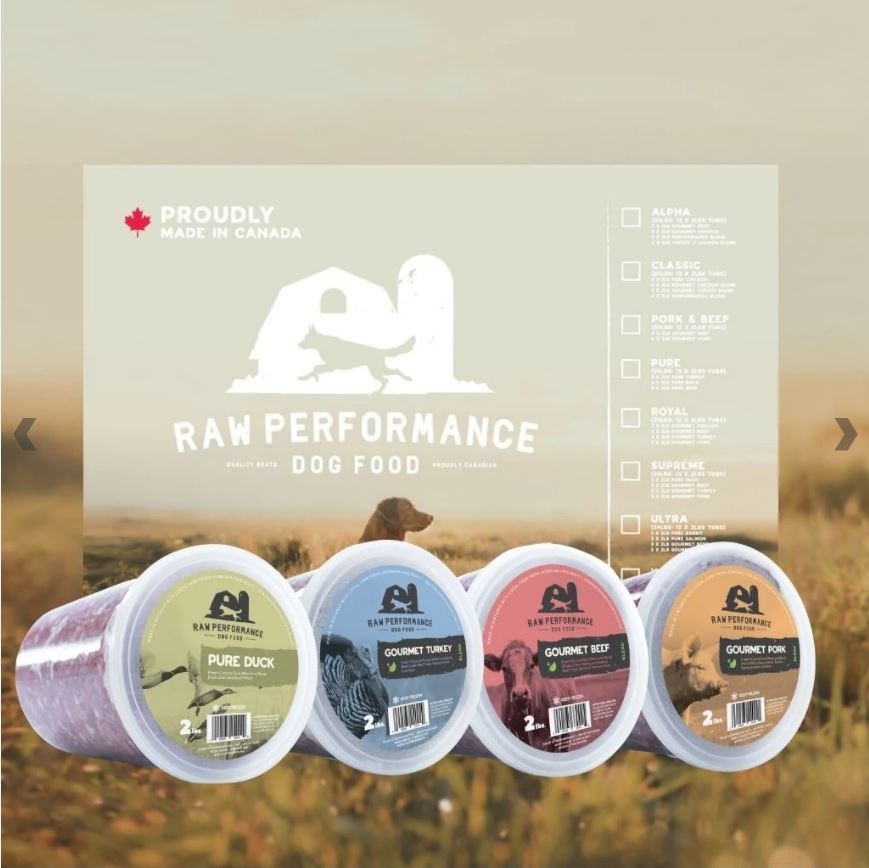 The Gourmet Blends are made with meat, bone, organs and veggies. The Pure Meals contain no veggies and are suitable for cats or dog owners that prefer to add their own veggies.
Packaging / serving: our customers love that Raw Performance is available in tubs (1, 2 and 4lb). These recyclable plastic tubs are convenient as they do not leak once thawed
Find more information about Raw Performance
Iron Will Raw
Iron Will Raw is a local brand that is made in St Catharines which we have carried from day one. They offer a wide variety of proteins
Original Dinners include superfoods like Green Tripe (beef or lamb) Kale, Spinach, Parsley, and Kelp.
Basic Meals are specifically made with cats in mind and for pet owners who prefer to add their own fruit, veggies or supplements. The basic meals, if fed alone for dogs, are not considered complete and balanced diets.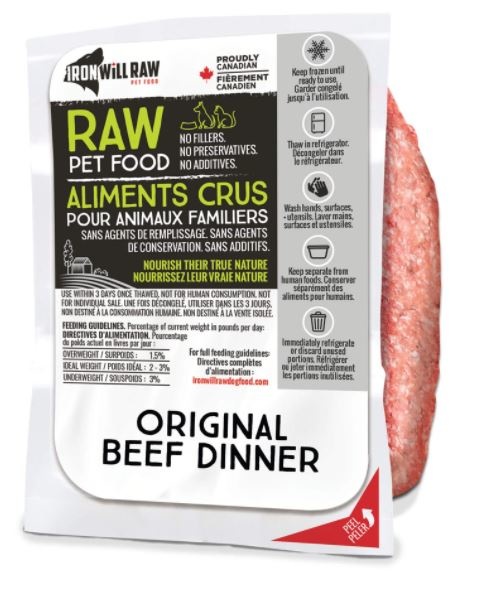 Packaging / serving: The packages are vacuum sealed and take up minimal space in the freezer. The only downside is that once thawed they sometimes leak and it is recommended that the thawed product be placed in another container in the fridge.
https://www.maggyspetboutique.ca/raw-pet-food-in-niagara/iron-will-raw/
Which raw food is the best?
We are comfortable in recommending each of these brands and our pets get a rotation of brands.  We recommend rotating between different proteins and brands for the health of your pets.