Posted on
By Maggy's Pet Boutique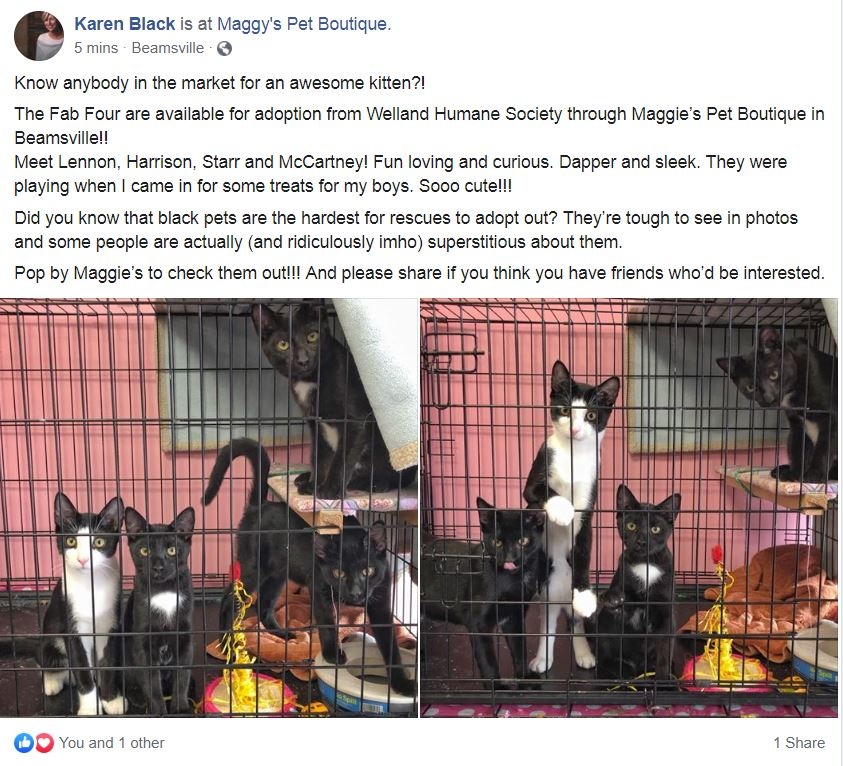 We have adoptable cats and kittens available in Beamsville at Maggy's Pet Boutique.
Adopt a Kitten at Beamsville's Pet Store!
We believe in contributing to the community and do so in many ways.  One of them is supporting Welland Humane Society by hosting some of their adoptable cats and kittens. 
Recently we had four kittens, Starr, Lennon, McCartney and Harrison, join us at the shop via Welland Humane Society.  These cuties are waiting for homes. They can go be adopted individually, in a pair, or all four at a time!
McCartney, Lennon, Starr and Harrison are good looking, good natured, and a lot of fun.  They love running around the store and playing.  
We are concerned about these kittens!
Did you know that black pets are the hardest for rescues to adopt out? They're tough to see in photos and some people are actually superstitious about them! According to an article in the Huffington Post, they are three times less likely to be adopted and for that reasons we are worried about them!
We think these kittens are some of the coolest around! They are like sleek ninjas in tuxedos. Or think of them as regal black panthers that you can take home!  No matter what your reason for adopting a kitten, we are confident that these lovely kittens will be a great addition to a cat loving home.  We are very confident that if you take a pair, you will be rewarded with hours of fun watching them play their fun mix of wrestling, tag and hide and go seek.
Stop in to see us at 4520 Ontario Street in Beamsville. We are Beamsville's Pet Store and we are looking forward to meeting you and introducing adoptable kittens.